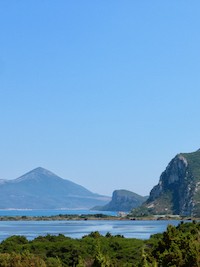 One of the most beautiful beaches with fantastic views
This one-day trip to the crescent-shaped Ochsenbauch Bay is combined with a festive final restaurant visit in the evening.
It is a spectacular surrounding on the Peloponnese with a fine sandy beach. The sides of the bay are closed by two high rocks through which the sea water has paved a way.
On a small mountain we will visit Nestor's Cave, from where you have a fantastic view.
---
After a leisurely breakfast we drive to Pylos and stop there for a little stroll through the harbour.
In the shade of ancient trees you can rest and relax with a cappuccino or you visit the small shops in the square Plaza.
Everything you have internalized in the workshops, you can now bring into the world.
In the protected space and the company of the people with whom you have shared profound experiences in the workshops, you learn to integrate it into daily life.
We continue to the half moon beach for swimming and in a cave we experience a little ritual.
In the evening we celebrate together in a typical Greek restaurant the end of our holidays.