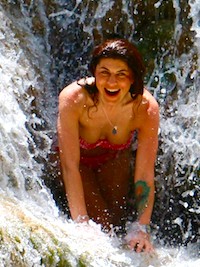 The waterfalls near Kazarma are a little miracle of nature
This one-day trip to the Polylimnio Waterfalls near Kazarma is a very special experience for most of the participants.
The waterfalls are a small natural wonder with various refreshing lakes and waterfalls, small gorges and blooming oleander, a butterfly cave, crabs, fish and other small animals.
This natural paradise touches a natural long-forgotten liveliness in us.
---
Enjoy a relaxed breakfast in the pleasantly warming morning sun on your terrace.
In an one-hour trip we drive together to the Polilimnio waterfalls.
Everything we have learned in the Opening to the Heart workshop, we will implement in this enchanting landscape and we use our senses to connect more deeply with our innermost core.
This beautiful landscape is a unique nature paradise and you will find your very own way to get connected with it. Get deeply in touch with your BEING.
We will end the afternoon in a typical Greek village restaurant.