A 5-day workshop for singles and couples in Russia and Israel
Everybody has a longing for intimacy and at the same time it scares you.
When you let go of control and allow yourself to be touched by your tender openness and the joy of sensual encounters, you can playfully surrender.
Being present in every moment is the key to conscious loving and sensual encounters. Instead of freezing in front of the other, you can perceive what is happening. Then you authentically stay connected with yourself and the other.
You learn to be open to love and gain courage to express your sensuality.
---
In this workshop, you have the opportunity to detach yourself from fears which separate us. You open yourself up to love and your playful sensuality in deep encounters.
Allowing intimacy is essential for keeping relationships alive.
Spersa
Realizing our true feelings and respecting others is the prerequisite for being open to sensual adventure in relationships.
We have learned strategies for avoiding intimacy when things get difficult in relating. Instead of consciously perceiving our fears that prevent us from allowing physical and emotional closeness, we prefer to isolate ourselves.
Intimacy will then naturally occur through the attraction between man and woman.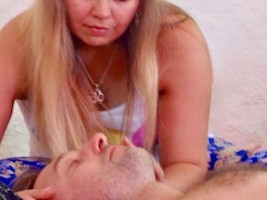 Bringing more light into the delicate issues of intimacy, such as the fear of being rejected or not being able to set healthy boundaries, will help us grow up inside.
Intimacy will then naturally occur through the attraction between man and woman.
Discover and explore:
☯ opening to love and sensuality
☯ learn to feel and flow with energy
☯ letting go of control and inviting surrender
☯ differentiation of emotional and sexual needs of men and women
The fear of closeness can dissolve and relationships with people we love will be joyful and easy. That brings a new harmony to your life.
Experienced a sweet ecstasy that I have never felt before.
An infinitely large, wide space opened and gave me the greatest pleasure and bliss ever achieved…
It was as if my heart was blooming in a touching tenderness like a rose.
Feedback from Susanne