Tantra holidays for joy of life and creativity for singles and couples in Greece by the sea
This sensual-creative and heart-opening holiday workshop takes place in the beautifully located seminar house The Other Paradise on Zaga Beach near Koroni, at the green peninsula Peloponnese in the south of Greece.
The magical beauty of the coast and the relaxed atmosphere in the seminars make it easy to get back in touch with your original joy of life. New creative energies will awaken easily and in a playful way, and you will get deeper in touch with yourself through sensitive and sensual encounters.
I experienced magical moments! The feeling of love and openness is still within me, and there is a new and refreshing feeling in my life.
Feedback from Yoram
In this uniquely wild nature paradise, you will experience Tantric-shamanic Rituals, which connect you with your original naturalness and the hidden sensual parts within.
Tantra holidays with body painting and a waterfall ritual
You can easily relax doing nothing at the beach.
If you prefer activity, you can experience the ecstatic joy of surfing and catamaran sailing on the open sea under the experienced guidance of the surf and sailing school, or enjoy the feeling of being one with nature while kayaking.
Life has awakened in me and also the love for life.
Every night I was sitting by the water and talked to the sea, the sky, the stars – and it works again to smell the rain and hear water.
Feedback from Daya
It's a sensual-tantric adventure where you reconnect with your liveliness and joy, which naturally arises when female and male energies meet consciously.
The workshop is for singles and couples who want to engage in love and awareness in their partnership.
---
Celebration of Shiva und Shakti (part 2)
Deepen the connection between love and sensuality with the feeling of oneness through Tantric-shamanic Rituals in nature.
The relationship with people you love, becomes easier as your fears of love and intimacy gradually dissolve.
You connect with the life giving energy of nature, which supports you to accept your sensual desire and the liveliness of your passion as something natural.
Experience connectedness with all that surrounds you, the song of the birds and the call of the owls, the swift lizards and slow turtles, the shy martens and cuddlesome sand boas and the wild badgers, foxes and jackals.
Nature reflects your own inner parts and how you live them. It strengthens your instinct and intuition. 
Feel existence within you and perceive yourself as part of existence!
Connected to your sensuality, you open yourself to the love in your heart and you will find there acceptance for your own nature. This opens you to the mystery of life and ultimately connects you to the infinity of your being.
Will you promise to open and give your love´s offering as best as you can, even when you are afraid or hurt? If we can each commit to opening, there is no limit to how deeply our love can grow or how fully our gifts may flower.
David Deida
---
At a waterfall you will ritually accept yourself as a complete, loving and sensual being in your original naturalness.
Being in tune with nature!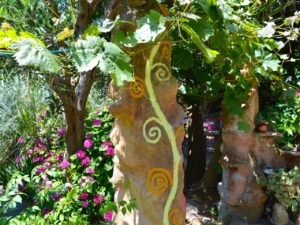 In the seminar house The Other Paradise, you can easily get in touch again with a natural state of being
In this nature-loving, protected environment on an empty beach you can sometimes watch foxes or giant turtles at night.
Especially in this workshop we will often include nature in our seminar program and meet also outside the seminar room for playful and deep exercises.